Best Predictor of 
High Performing Teams
Dear Springboard:
As we edge back to some version of a new normal, I'm worried about how to lead my team effectively. They're worn out and just pushing harder doesn't seem like a good idea. Plus, we're living with so many uncertainties.
I'm a . . .
Little Anxious
Dear LA:
We have been through an immensely disruptive period and, honestly, there is more to come.
There is general agreement that we are not returning to conditions as they were pre-Covid and there is also acceptance that no one really knows what work life will be look like like going forward.
That said, I think team leadership is going to be as important as ever.
We know that innovation thrives in an environment where it's safe to speak up and even challenge the status quo.
Given this landscape, leaders that create psychological safety in their teams will have a decided advantage.
Imagine team meetings where everyone is afraid to speak up for fear of being ridiculed, or worse.
Then, imagine meetings that are genuinely collegial, fun, far reaching and maybe even a little inspiring. Which one would you want to be on? Which one do you think will be high performing?
Harvard Business School professor Amy Edmondson is a recognized expert on psychological safety and she defines psychological safety as a ''shared belief held by members of a team that the team is safe for interpersonal risk-taking.'' It is ''a sense of confidence that the team will not embarrass, reject or punish someone for speaking up.''
We have a natural default for survival to look good so we don't get kicked out of the tribe. This leads to playing not to lose, to stay safe.
Sometimes psychological safety is considered the same as trust but there is a difference. Trust is about one-to-one relationships and psychological safety is about how I believe I will be received by the group.
The very term psychological safety can sound soft and suggest complacency. That is not the case.
The idea is to create an environment with both support and challenge to champion the excellence that comes from stretching.
The figure below shows that the right combination of support and challenge best enables learning.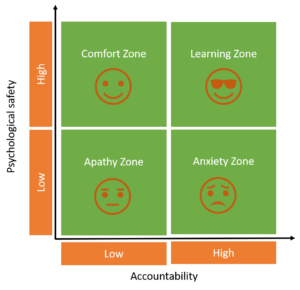 For more evidence, take note of Project Aristotle – Google's internal research into what it is that makes teams most effective.
The surprise of the exhaustive study completed a few years ago was that psychological safety emerged as the most powerful predictor of team performance.
The other four dynamics that set successful teams apart were: dependability; clarity on roles, goals and execution plans; that the work was personally important; and, belief that the work mattered. For access to the in-depth
NYT article, click here.
As important as psychological safety is, how does a leader create this for a team? One answer to this is the impact of different leadership styles.
Lance Frazier's research as reported by McKinsey showed that the behaviors of consultative leadership and supportive leadership are the most effective.
The same research showed authoritative leadership to be detrimental and challenging leadership to be productive only when the team climate was already positive.
Consultative leaders ask for opinions, solicit input and consider the team's views.
Supportive leaders can create a positive climate by showing concern for team members as individuals beyond their status as a team member.
Authoritative leaders dictate and direct.  It is top-down, characterized by one-way communication and discourages participation.
Challenging leaders push employees to do more than they think they can.  This can be effective but only when the team climate is already positive.
I remember in my coach training workshops the positive impact when the group agreed to the ground rule that nobody gets to be wrong. And further, adopting the perspective that if we disagreed with someone, we could find at least 2% we could accept.
Recognized expert Amy Edmondson has noted other factors that contribute to psychological safety.
Start with the best practice of being genuinely interested in what is going on with others.
Consistent and persistent advocacy from the top is important to create the conditions for a positive climate.
Open dialogue skills allow participants to explore disagreements and have productive conflict.
And she includes two other factors not usually a part of leadership development training: enabling another's success ahead of their own; and situational humility such as being willing to model new behavior while still learning it.
As we all venture forth into new territory, there will be ongoing pressure to be increasingly productive while also being innovative, adaptive and resilient.
Creating a positive team climate with psychological safety will be engaging and effective.
From the Watercooler
springboard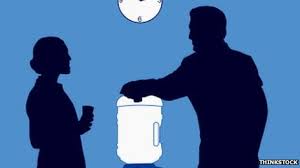 Trust is the oxygen of relationships.